THIS POST MAY CONTAIN AFFILIATE LINKS. I MAY EARN FROM QUALIFYING PURCHASES.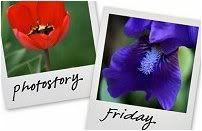 Hosted by Cecily and MamaGeek
A Day at the Fair
Every day for a week when we drove by the fair, #1 would tell us "look horsies" and we did. Then, they set up a trailer in front of them, and she could no longer see them.
So, she was promised a day at the fair.
Which happened to be a day that she skipped her nap. Fun for #1…not so much for us! But, I think we had a good time.
First stop, the petting zoo. She wanted to stay put in her stroller until she figured things out. She was a little bit overwhelmed….and a lot of bit tired.

Turns out, she was much more interested in the chickens and the bunnies. While checking the bunnies out, she demonstrated the "hop-hop" that they do.

Then, we went to "ride the horsies." Of course, #1 didn't want to do it, until we were walking away. So, of course, we gave in. Daddy went with her because Mommy doesn't do spinning so well.
Despite the look on her face, she actually had a great time. When she got off, she ran to tell me "ride the horses…go round and round." I was impressed because she came up with the "round and round" part all by herself.

Once she figured out what the rides were, she wanted to ride the elephants and ride the fish. But, we just did the one horse ride.
She got to walk around a lot. We were hoping for a good night's sleep.

Have a heart-to-heart.

And this is where you should see a picture of me eating some of my favorite fair food; shaved ice and cotton candy. However, #1 was done with the fair and made it less than enjoyable. So, no fair food this time and we headed home with a cranky, tired toddler, and some cranky tired parents.