THIS POST MAY CONTAIN AFFILIATE LINKS. I MAY EARN FROM QUALIFYING PURCHASES.
#1 has been obsessed with hippos lately and conveniently, daddy got this little guy at work (don't ask!). Daddy brought it home for #1.

Can you tell she loves it?

But, rest assured, the story does not end with the cute little toddler "hamming" it up holding her hippo. Oh, no, it sure doesn't.
You see, hippos live in the "muuuud." Yes, she says it just like that.
And apparently, hippo got dirty. So, hippo took a bath. Any guesses where?
You there in the back? Yes, that's right, in the toilet. Don't leave yet…it gets better.
Daddy knew about the hippo in the toilet, but he left it there. I guess the hippo was really dirty from all of the "muuuud."
Fast forward to about 3am when #2 starts squawking (yes, she squawks, she doesn't cry). I get up and give her the paci.
And, remember when MG said that you have to pee first? Well, I forgot.
So, after tending to the town crier, I ran to the the bathroom.
Ahh, sweet relief.
I stand up, turn around to flush the toilet. And "what the hell is that?" Seriously, OUTLOUD!
(Have I mentioned I wear glasses/contacts and I didn't have them on?)
There is a HUGE gray thing floating in the toilet. I started checking myself for injuries. I came up short.
Then, it hit me. That stupid hippo was still "taking a bath."
So, yep, I peed on the hippo.
So he got his bath alright, complete with Lysol bubbles.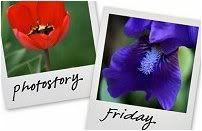 Hosted by Cecily and MamaGeek