THIS POST MAY CONTAIN AFFILIATE LINKS. I MAY EARN FROM QUALIFYING PURCHASES.
You know the feeling you get when you realize that you have very few pictures of your second child?
No? You are a better parent than I!
I realized that is past weekend.
I have folders upon folders of pictures of #1. For her first year of life? They are organized by what week of life she was in.
Now, my pictures are organized by month and year. And both girls are lumped into the same folder. No special #2 by week pictures. In fact, I don't even think I captured a 5 month picture of her.
So, we went outside this weekend for some #2 only pictures with all natural lighting.
And, if I wasn't feeling so lazy (notice the trend?), I would probably edit these pictures, making her eyes pop, and removing that little foot in the top right corner. So, you'll just have to use your imagination!
Here's our sweet #2 in all her glory. At approximately 5 1/2 months (give or take a couple days).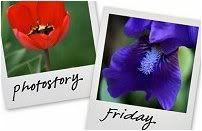 Hosted by Cecily and MamaGeek
*******************************
Don't forget about the
Corneille CD
giveaway! I've got two of them to giveaway…and there aren't a lot of entries!