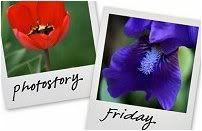 Hosted by Cecily and MamaGeek
Meet
Emily
. She's my sister.
#1 loves her. Can you tell why?
She lets her eat fudgsicles for a snack…
in my living room.
She helps her bake cookies, shows her how to eat the dough, and then eat the cookies.
And, loves her "Blubs" to death. Can you tell the feeling is mutual?
Emily
is new to the blogging business. Her friends tell her you must have kids to have a blog. Prove them wrong. Go visit her at
M's Memorable Moments
. Leave her some love. I told her she has to visit you, too! And she had to leave you some love. And of course,
I pimped her blog
!!
So, go, and especially read this post and see why our mom looks like this after a family vacation.
Much love and happy PSF!!!