THIS POST MAY CONTAIN AFFILIATE LINKS. I MAY EARN FROM QUALIFYING PURCHASES.
Apparently, every girl needs a four wheeler. And, Grandpa Joe was so excited to deliver!
The first time they took her out to ride on it, she immediately accidentally set her foot on the accelerator, and decided she was done.
However, Grandpa Joe was not ready to admit defeat.
He took #1 out again, and she got it.

And, it was hilarious. Two and a half year olds should.not.drive! What you won't see here are the pictures of her running smack into the fence, then the house, and then my van. All the while, she was continuing to accelerate.
Because the adults were close by and we knew she was safe, it was hilarious. HILARIOUS.
Once she figured it out, she could not be contained.

If this is how I feel when she is two and half and driving a motorized toy, I can't even begin to imagine how I will feel when she's 16. Oy vey.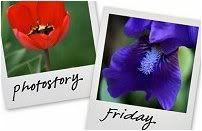 Hosted by Cecily and MamaGeek

PS The link for the comments is up at the top now:) You know how I love my comments.