PSF-Thanksgiving at school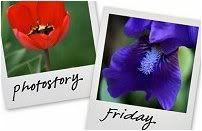 Hosted by Cecily and MamaGeek
We were invited to come share Thanksgiving dinner with #1 at school.
Can you tell she was excited we were there?
We were hoping for Pilgrim hats, but the Indian hats were pretty cute, too!
They made placemats, too!
And, Sunday at church, #1 made a turkey from her hand print. When asked what to write on her turkey stating "I'm thankful to Jesus for…" She answered "Daddy!"
They really have a special relationship, and I'm sooo happy!
"Look, daddy, a cornucopia!"