PSF-Strawberry picking with the great-grandparents
THIS POST MAY CONTAIN AFFILIATE LINKS. I MAY EARN FROM QUALIFYING PURCHASES.
With the great-grandparents here, we took the opportunity to do something different and special.
#1 and great-grandpa sharing a moment. He was helping her find the good ones. And helping her not squish them when she picked them

And, great-grandma helping out, too.

"Oh, #1, that's a good one."

Look at that sweet girl. Somebody must have taught her well. She's sharing with me.

Ah, she finally got to eat one.

Or, maybe a couple. Look at that face!

And, the fruits of our labors (sometimes, I crack myself up). Notice that little hand grabbing more. I have three pictures of the berries, and every single one of them has a little paw reaching in for more. I guess you could say she likes strawberries.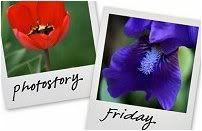 Hosted by Cecily and MamaGeek