PSF-I think she finally likes it
THIS POST MAY CONTAIN AFFILIATE LINKS. I MAY EARN FROM QUALIFYING PURCHASES.
(It's going to be hard to do better than the hippo post…I'm going to try, though!)
Since we've moved to our house, almost 2 years ago, #1 has really disliked our backyard.
Not because of the atmosphere or the fun playground, but because the people that live behind us have a fur baby.
A fur baby named Jack…Jack the Beagle. Who barks if the wind blows too hard.
So, every time we go in the backyard, Jack barks at #1. And, she's been terrified.
When our neighbors are home and hear Jack barking, they've started putting him inside. Now, #1 can enjoy the backyard. Finally.

Thank goodness.

And even playing with the rope.
"Look, I'm swinging like Spiderman." Yes, we tell her it's Superman, but she doesn't get it!

And so far? #2 likes the backyard, too!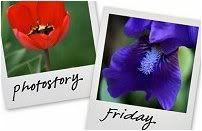 Hosted by Cecily and MamaGeek
*****************************
PS Did you enter my glasses giveaway?