PSF-Peace or two…you decide
We have diligently been working with #1 on doing a two with her fingers.
It's been quite the task, and just a couple days ago she couldn't do it at all.
Then, she could hold her fingers in the position if you put them there.
And, one day, she said "look, mommy, I made a two. I need to show daddy."
So, this was the best I could do at the time.

But, now, she does it all the time. And, she can even do it with both hands.
It really is the little things that bring us such joy. She's learning and we're teaching. It warms our hearts.
Peace.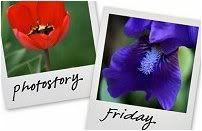 Hosted by Cecily and MamaGeek