THIS POST MAY CONTAIN AFFILIATE LINKS. I MAY EARN FROM QUALIFYING PURCHASES.
The girls did not want to take a picture with mommy on Mother's Day, but I insisted.
At least the one that isn't mobile couldn't get away from me. So, I got my picture with #2. (Man do I look tired.)
And right as the shutter snapped open and closed, she puked right on me. These are the faces of "I just puked on you" and "Gross, I have puke on my hand."
I guess she didn't want her picture with me either. Stinker.
And, after the craptacular day that was Mother's Day, these arrived on our doorstep on Wednesday…
…with a note: "Every day should be Mother's Day!" -Love, Mr. Serious.
Indeed, it should!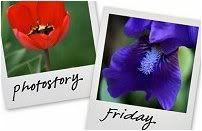 Hosted by Cecily and MamaGeek