THIS POST MAY CONTAIN AFFILIATE LINKS. I MAY EARN FROM QUALIFYING PURCHASES.
In a land far, far away, a boy and a girl got married and went on a fabulous honeymoon to the Mayan Riviera.
Drinks were aplenty as well as the food.
The scenery was gorgeous and the water was blue (hey, I really didn't mean to rhyme there).
We had the most wonderful time. We saw the Mayan Ruins. We took naps everyday. And we ate at least 4 meals. We even had room service; everyday.
It was fantastic.
These are two of the scrapbook pages I did from our engagement/wedding/honeymoon. I was silly and didn't bring my digital camera; and now my scanner isn't working so you get pictures of pictures. I think you get the idea, though.

And of course, we haven't done anything like this again. And, I wish we would. And, I'm sure it will happen again (hey, a girl can push for a summer vacation at an all-inclusive pro-kids resort, right? OHmommy did it and I'm feeling inspired)!
In the mean time, I've got some pretty cute kids (and a pretty awesome hubby) to enjoy!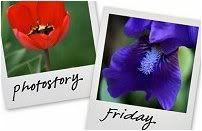 Hosted by Cecily and MamaGeek