THIS POST MAY CONTAIN AFFILIATE LINKS. I MAY EARN FROM QUALIFYING PURCHASES.
We decided to do the balloon/fairy idea.
Thursday night, I went to Target and bought her a CareBear. I didn't let her pick it out because she can't make up her mind, but I think I did good.
Friday, after work and picking #1 up from daycare, we went to the store to get balloons. All the way there, she was saying "I going to store…I getting balloons." She was so excited. I let her pick out the colors. She wanted yellow and purple, and I added pink. It worked to our advantage, because somebody ordered a dozen pink balloons and never picked them up. So I got 14 balloons for the price of 3.
Back to the story. She was so good at the store, and wanted to help carry the balloons that would send her paci away. We got to the car, and thanks to Fay, the wind was blowing crazy. We looked like a circus act trying to put the balloons in the trunk. I put one in and two came out. I wish I had it on camera. A nice man came and helped me get them in the trunk…and we finally succeeded.
When we got home, I let her play with the balloons while we waited for daddy. She had a blast!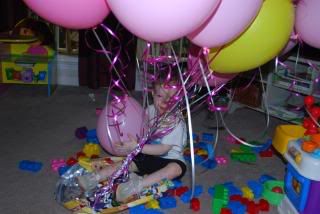 Of course, she got all tangled up in them.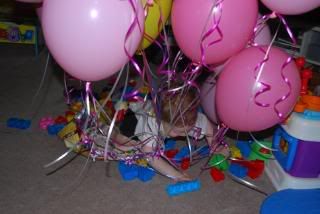 And, that yellow balloon….my nemesis! It would have been perfect, but you can still she the joy in her face.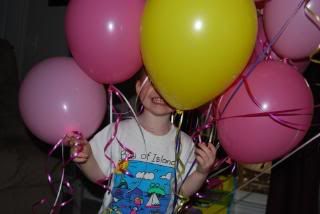 Zombie walk…she was really stuck.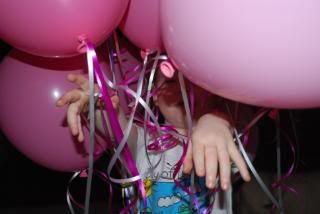 Once we had dinner and daddy got home, we let her have her pacis for one more time to say goodbye and suck on them one more time. I think she was a little confused because she was quite hesitant…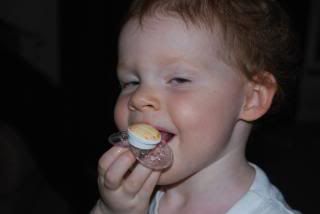 But, she took it for a second.

Then, we said it was time to go outside and send them away, and she took it out of her mouth, and she was done with them. She really seemed to understand what was going on.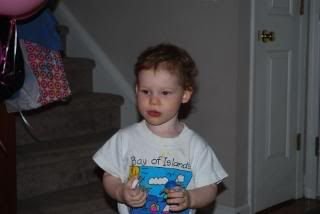 Getting ready for the send away.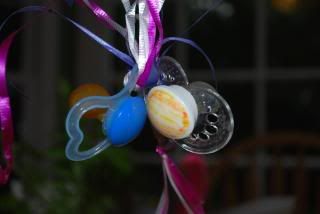 Daddy explaining to #1 what was about to happen.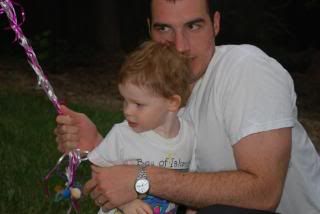 She didn't really want to hold them, but they eventually let go.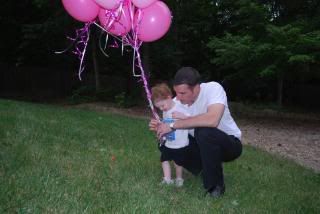 One last look at the pacis, and it's time to say good bye.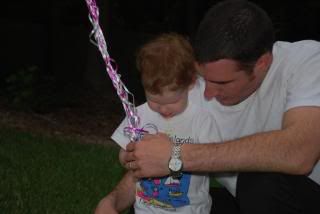 And they're off.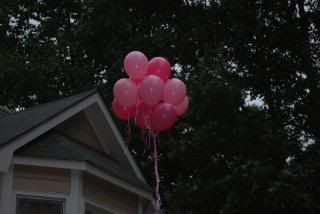 And, they got stuck in the tree!!!!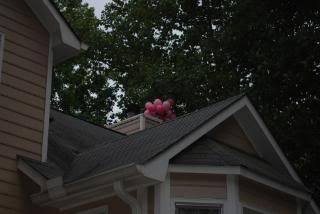 But, she couldn't see them anymore, and once they were gone, she wanted a hug from daddy. She had such sad eyes, but no tears.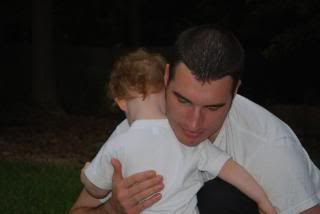 And then we went inside and played with two balloons that we kept.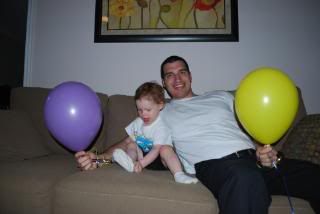 That night, she said a couple times "bye bye paci" and "paci all gone balloon." She knew what happened. She's a smarty and she got it. When we put her down, she fussed for a minute, then calmed down. Then, about 20 minutes later, she was up banging on the door and wanting mommy and daddy. Daddy went upstairs to put her back in bed, and as soon as she opened the door, she said "paci all gone." And, she went to sleep!
The next morning, she had a visit from the paci fairy. She had a good time opening her "big girl present."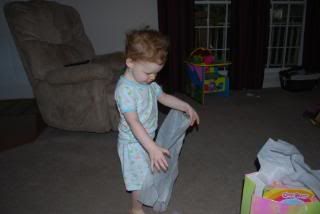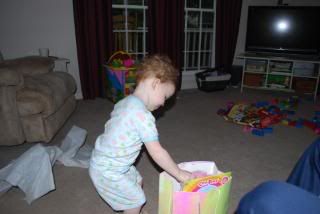 She asked for help and said "open, open."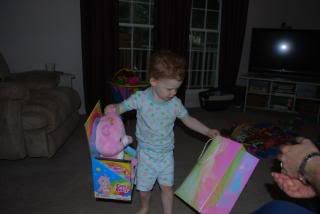 She was really excited about her CareBear.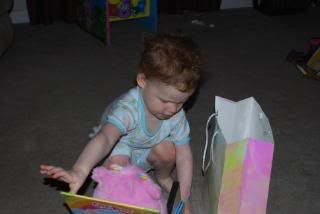 So, excited. She gave her CareBear hugs and kisses and so did mommy and daddy.

She also discovered the DVD that came with it. We still haven't watched that one, yet.

She gave her CareBear a ride on her car. She looks sooooo big and tall here.

Oh, my goodness, she's sooooo sassy!

And silly.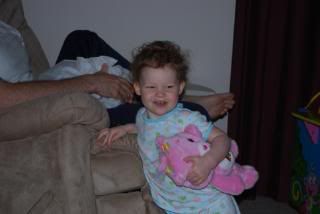 Her lay down at nap time and bed time sort of went the same Saturday and Sunday. But Sunday night we didn't hear a peep out of her. She really REALLY did a great job and we are so proud of our big girl.
Next endeavor…..potty training!
Thank you all for your help and suggestions. We couldn't have done it without you!!