THIS POST MAY CONTAIN AFFILIATE LINKS. I MAY EARN FROM QUALIFYING PURCHASES.
I've turned my
frown upside-down
. Since Tuesday, I was determined to catch #2 in action
rolling over
. And, we all
finally
saw it tonight. And, boy did she perform. She did it three times!!! So, I'm sharing it with you.
And, I can't let #2 hog the spotlight. #1's got to get some screen time, too. She has learned to do front flips (which daddy calls somersaults, but I know from my gymnastic days that a somersault happens in the air…I digress). So, here are her flips in action.

(Hope videos are okay for "photo" story Friday!)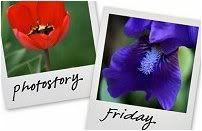 Hosted by Cecily and MamaGeek
***********************************
Want to win a shirt just like this one? Click on the picture to go to my giveaway. Friday is the last day to enter!!!