THIS POST MAY CONTAIN AFFILIATE LINKS. I MAY EARN FROM QUALIFYING PURCHASES.
Ooops, she did it again!
Breastmilk is great…except it tends to make diapers leak.
So, the quick fix?
A shower in the sink!
I know it's blurry, but you can tell how much she loved it
She prefers it when the water is running on her.
What isn't pictured, is once I took her out, daddy wrapped her in a towel.
And…she peed on him. Through the towel, on daddy and on the floor!
Don't you just love Photostory Friday?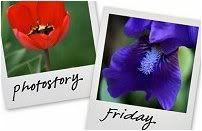 Hosted by Cecily and MamaGeek
****************************
In the Twins post, most of you were right, #2 was first (she has chubbier cheeks), and #1 was second. Good job!!
I'm pretty sure I replied to all of you that had your email address enabled for comments. If you didn't, please read how to do it here…I love to reply to your comments, especially if you ask a question!